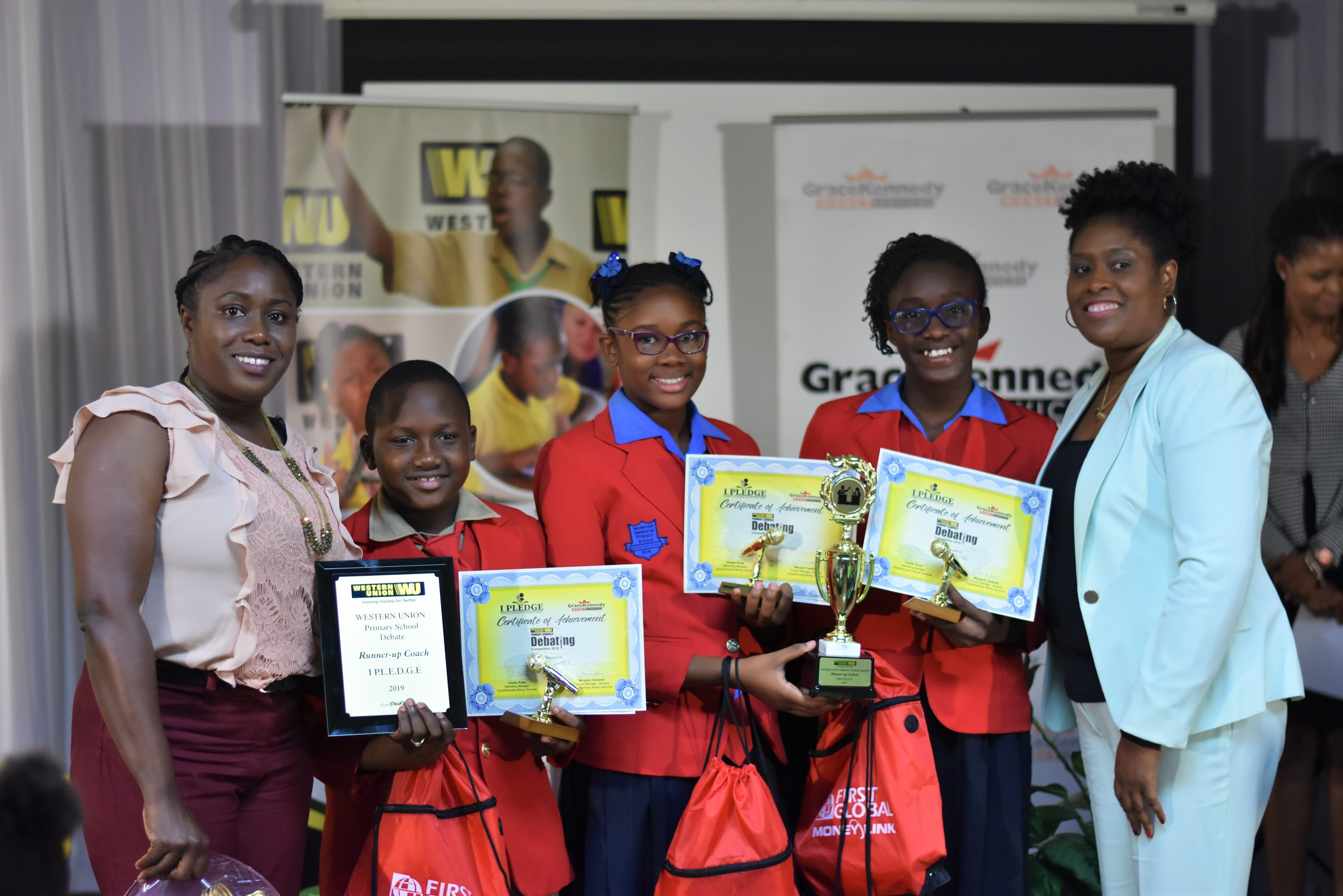 McIntosh Memorial
The 2019 Runner-up in the Western Union IPLEDGE Primary Schools' Debate competition McIntosh Memorial out of Manchester! From left: Tanya Dyer Debate Coach, Damario Swaby, Shaquan Salmon and Kenya Palmer flash bright smiles with GraceKennedy Money Services (GKMS) Country Manager Jamaica, Margaret Campbell.
KINGSTON, Jamaica, Wednesday, June 12, 2019, An elated Mona Heights was basking in the glory of lifting the Western Union IPLEDGE Primary Schools Debate trophy in downtown Kingston on Wednesday.  
"I still can't believe it. Like I heard them say our name, and we were just like shocked, like did they really say Mona?" said young Alissen Bowley, Mona Heights' Deputy Head Girl and member of the debating team.
They defeated the Manchester-based McIntosh Memorial in a thrilling encounter where the two debated the moot – Be It Resolved: Prioritizing Tertiary Education Has Increased Inequality in Developing Countries.
The debate competition wrapped up the 13th annual staging of the Western Union IPLEDGE (I Promise to Lend Encouragement to Develop Growth in Education) programme which is focused on enhancing literacy skills at the Primary level.
Mona Heights was the early favourite in the competition after beating the last two seasons champion George Headley Primary in the first round.  
However, the McIntosh Memorial team who presented the opposing arguments were no walk-over, as their second speaker Shaquan Salmon, copped the best speaker award in both the semi-final and final. The other members of the team were Damario Swaby and Kenya Palmer.
Tanya Dyer, McIntosh Memorial's coach had high praises for the competition. "They did well. This was a very well-played match with both teams doing equally well.  I think the arguments presented by both sides were good and honestly, it could have gone either way. This entire exercise was good for the children, they learnt how to develop ideas and learnt how to construct arguments," she said.
Meanwhile, Alex Hepburn, the Mona Heights Primary coach said this was just the beginning for his school's debating team. "I will lose two of my debaters this year but we have some very good students coming up and next year is going to be something else."
The Mona Heights team of Bowley, Shallae Gavin and Aaden Dunn also walked away with $200,000 in cash, trophies, complimentary day pass for Sunscape Resort and gift bags from Western Union and Grace foods.
Meanwhile the runner-up McIntosh Memorial took home $100,000 cash prize, movie tickets, trophies, and gift bags from First Global Bank and Grace Foods.
The final capped off what was an exciting and intense season which saw 16 schools across the island flexing their debating skills.
The participating schools in the 2019 Western Union IPLEDGE Primary Schools Debate competition were:
St. Richard's Primary – St. Andrew
Jessie Ripoll Primary – St. Andrew
Mona Heights Primary – St. Andrew
George Headley Primary – St. Andrew
John Rollins Success Primary – St. James
Corinaldi Avenue Primary – St. James
Savannah- La- Mar Primary – Westmoreland  
Broughton Primary – Westmoreland
McIntosh Memorial Primary – Manchester
Mandeville Primary – Manchester
May Pen Primary – Clarendon
Black River Primary – St. Elizabeth
Angels Primary – St. Catherine
Naggo's Head Primary – St. Catherine
Bridgeport Primary – St. Catherine
Kensington Primary – St. Catherine
The IPLEDGE initiative started by GraceKennedy Money Services (GKMS), Western Union agent in Jamaica and 10 other Caribbean countries, is their ongoing commitment to national development.  Over 3000 students have participated in the IPLEDGE Programme through the Reading Days, the essay and debate competitions since inception. "Any investment in education, we believe is an investment in our future generation," reiterated Margaret Campbell GKMS' Country Manager, Jamaica.